RAMI BAR-NIV LYRIC TRIO
Address: 14 Hativat Givati St. Raanana, Israel, Tel:972-9-7744780, Fax:972-9-7713791, bar-niv@zahav.net.il .

---
From left to right: Rami Tal (Flute), Rami Bar-Niv (Piano), and Cara Goodrich (Soprano).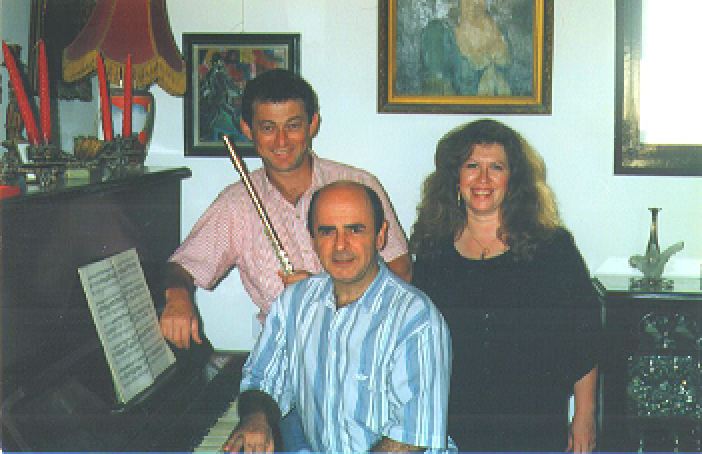 ---
From left to right: Cara Goodrich (Soprano), Rami Bar-Niv (Piano), and Naomi Feldman (Saxophone) in their program entitled "A Fascinating Rhythm ---an evening dedicated to Gershwin's music".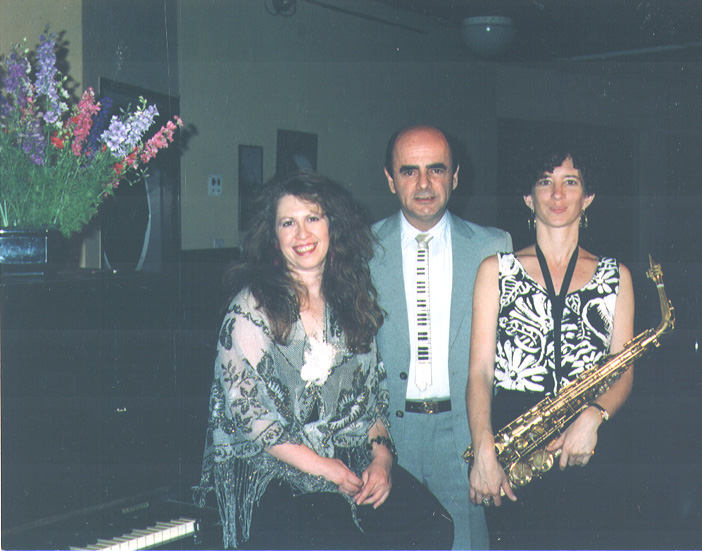 ---
The Trio consists of Pianist Rami Bar-Niv, Soprano Cara Goodrich, and one of the following: Flutist Rami Tal, Trumpeter Tal Bar-Niv, or Saxophonist Naomi Feldman. All three combinations of the Trio perform with great success all over Israel and around the world. They are often sent abroad by the Foreign Ministry to represent Israel in concerts. Their repertoire is wide and varied, and includes Classical, American, Spanish, Israeli music (Classical, Folk, and Popular), and more.

Rami Bar-Niv is one of Israel's most acclaimed piano virtuosos, who performs extensively throughout the world.

Cara Goodrich has a beautiful soprano voice that captures her audience in every style.

Rami Tal, a distinguished member of the Jerusalem Symphony Orchestra, is one of Israel's finest flutists.

Tal Bar-Niv has played as principal under some of the greatest conductors in the world. He performs in recitals, chamber music and as soloist with orchestras, and received his masters' degree - "Summa cum laude". Tal is currently studying towards a doctorate degree in music.

Naomi Feldman is a graduate of the Rimon School of Jazz. She is very popular with both classical and jazz ensembles.
---
"All three, who complement each other nicely, have that ineffable
 quality that allows them to put the music across with style 
 and charm, and, together, they are an ideal team for a concert."

      Joan Reinthaler, THE WASHINGTON POST, June 1,1995.

---
Related pages: Rami Bar-Niv (Pianist), Tal Bar-Niv (Trumpeter), The Van Leer Ensemble (Chamber Music), and Yair Barniv (Page Curator).
---